Electric Stimulation Therapy
What Is Electric Stimulation Therapy?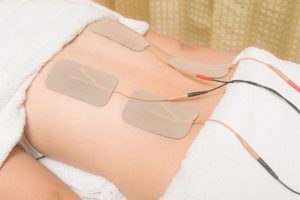 Electric stimulation therapy refers to a physical therapy treatment that involves using electrical currents to provide pain relief. During this procedure, patients have electrodes placed on their skin. When electrical currents move through these electrodes, they cause the muscles in these areas to contract. This has the benefit of allowing patients to improve and maintain a healthy amount of muscle tone. It also helps make muscles stronger in cases where these muscles would normally erode from not being used enough. This can happen when you have a serious injury and do not seek proper treatment for it or when you do not do exercises during recovery to make the affected muscles stronger.
Electric stimulation therapy offers other benefits as well. It can help improve your range of motion after an injury. It can also help promote healthy circulation, which helps injuries heal properly. This type of therapy is considered safe and is not associated with any serious side effects or major risks. However, those with pacemakers should not have this type of treatment done. Patients with certain types of skin conditions and pregnant women should also avoid undergoing electric stimulation therapy.
What Does Electric Stimulation Therapy Treat?
Electric stimulation therapy can be used for treating a number of conditions. Some of the uses for this type of therapy include treating sciatic pain, pain and stiffness linked to arthritis, sprains in various joints, and back pain caused by other conditions. This form of therapy can be used for easing pain from migraines or other types of headaches, chronic pain associated with previous injuries, tendinitis, and bursitis. It can also be used for relieving discomfort and improving range of motion after surgical procedures.
In general, electric stimulation therapy is useful for treating problems that affect the muscles, ligaments, joints, bones and tendons. It can provide effective pain relief from pain caused by injuries or conditions, such as fibromyalgia or arthritis.
Chiropractic Treatment with Electric Stimulation Therapy
Chiropractic treatment can be combined with electric stimulation therapy to enhance the results of this type of care. Chiropractic adjustments to the spine in order to align it can ease pain and stiffness. These spinal adjustments correct any discs that have fallen into misalignment due to damage. When you combine chiropractic treatment with electric stimulation therapy, you can expect to have even more effective pain relief. This enhanced pain relief can help you make a faster recovery and resume regular activities sooner than expected.
Electric stimulation therapy and chiropractic care can be part of your treatment and rehabilitative plan for recovery. You might also benefit from having other types of physical therapy included as part of your recovery plan, such as doing stretching and strengthening exercises. These exercises also help you maintain strong and toned muscles while also staying as flexible as possible. We offer electric stimulation therapy as part of our physical therapy services. Our providers will determine if this type of treatment should be included in your treatment plan, which will be based on the kind of injury you have, what is causing it and how serious it is.