Physical Therapy
What Is Physical Therapy?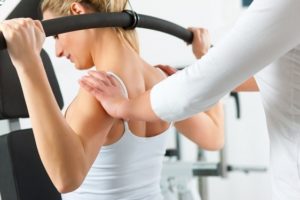 Physical therapy is a form of treatment that involves doing exercises that make muscles stronger and restore a normal range of motion. When you have chronic pain, the muscles in the affected area can become weaker over time. This provides the affected area with less support, which can lead to increased pain. As pain gets worse, your range of motion can also be affected. When you have chronic pain that gets worse, you might have trouble bending or turning, which can affect your ability to walk, hold items, and do other everyday activities. Working on strengthening your muscles and increasing your range of motion helps lower your chance of dealing with recurring pain or pain that gets worse.
Benefits of Physical Therapy
Physical therapy provides a number of benefits when it comes to pain relief and recovery. These include reducing pain and stiffness that can interfere with your daily activities, which allows you to return to your normal life. Physical therapy also helps you improve your coordination and balance, which makes you much less likely to fall and injure yourself. These exercises can help you manage arthritis or other conditions that cause inflammation in the joints, leading to debilitating pain and stiffness. Physical therapy is an important part of recovery from sports injuries, which improves your chance of being able to resume your regular physical activities. This form of treatment serves as an alternative to surgery, so you don't have to worry about having complications, such as incision site infections or a longer recovery process.
Types of Physical Therapy Services
There are several kinds of physical therapy services that can help restore your range of motion and strengthen your muscles:
Manual therapy involves using the hands to lower pain through massages and applying pressure to affected joints.
Education for patients when it comes to being able to go about daily tasks in a safe manner, going through exercises at home, and learning how to protect the joints from additional injuries or recurring pain.
Electric stimulation uses electrical currents to decrease pain.
Ultrasound therapy and hydrotherapy, which is also known as water therapy.
Chiropractics and Physical Therapy Working Together
Chiropractic care and physical therapy can be used effectively in combination during the recovery process following an injury. They can also be used together as part of a treatment plan for managing arthritis or another condition that causes chronic pain. Chiropractic adjustments provide pain relief by eliminating tension along the spine that can cause soreness in the body. These adjustments are responsible for bringing the spine into its proper alignment to reduce pain. While chiropractic care alone can provide pain relief, physical therapy can also contribute to these results. Physical therapy lowers your risk of having pain and other symptoms come back. As your muscles become stronger and your flexibility improves, your chance of having pain return gets lower. At Health First Injury & Pain Centers, we create customized treatment plans for patients in the Dallas-Fort Worth area. Some of these plans involve both chiropractic care and physical therapy for optimal results.