Chiropractic Treatment
Types of Pain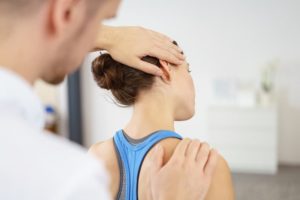 Pain can occur suddenly due to an injury or an underlying medical condition, or it can occur on a regular or persistent basis. Sudden pain is known as acute pain, while ongoing pain is known as chronic pain. Injuries that start with acute pain can become a source of chronic pain, especially if they do not heal properly. Sciatica and other spinal problems, as well as arthritis and other medical conditions can cause chronic bouts of pain.
Back pain is among the most common types of pain, especially when it occurs in the lower back. Back pain is associated with a number of causes, including bulging or herniated discs and spinal stenosis. Joint pain can occur due to injuries or a medical condition that causes inflammation, such as arthritis. Neck pain can occur when the upper part of the spine is damaged or affected by a disc problem. Pain in the shoulders, neck and other areas can also occur when muscles, ligaments or other soft tissue structures are damaged.
In some cases, pain occurs after a work-related injury, such as falling on the job or lifting heavy objects. It can also occur when you do repetitive work on a regular basis. Other common causes of pain include sports injuries and auto accident injuries. These injuries can result in whiplash, torn ligaments, severe joint inflammation and other problems that lead to considerable discomfort and restricted range of motion.
What Is Chiropractic Care?
Chiropractic care involves doing non-invasive spinal adjustments that bring all spinal discs into their proper alignment. These adjustments can be done in different ways, such as manually or by the use of a device, such as a specialized table. Chiropractic adjustments make it possible for oxygen, nutrients, and fluids to reach areas of the spine that are damaged or injured, which helps them heal. As they heal, this reduces pain and other symptoms. Chiropractic care involves more than adjustments to the spine. It also includes education, such as nutritional counseling, to help patients lower their risk of having recurring pain again while also adopting a healthier lifestyle.
Chiropractic Care for Pain
Chiropractic care is a treatment option for many types of pain. Whether you deal with recurring lower back pain or are experiencing whiplash symptoms after a car accident, chiropractic adjustments and other care can provide you with relief. Keep in mind that the number and frequency of chiropractic treatments you'll need for optimal relief depend on how severe your pain is and what is causing it to occur.
Chiropractic treatment has certain advantages over other forms of treatments. It does not cause adverse effects or side effects, and it does not come with the risk of addiction as prescription medications do. It also provides pain relief that lasts longer than the short-term relief offered by over-the-counter pain relievers. Chiropractic care also provides a safe and non-invasive treatment option for those who do not want to undergo surgery, which comes with the risk of infection, bleeding and other complications. We can determine which types of chiropractic care are best for your condition.