Auto Accident Injury Care
Types of Car Accident Injuries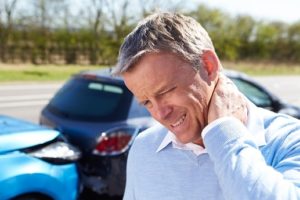 Being in an auto accident can cause injuries to your back, neck and other joints. This pain can be caused by spinal disc injuries, muscle injuries or injuries to other soft tissue in the affected area, such as tendons or ligaments. One of the most common types of auto accident injuries is whiplash, which can cause neck pain, upper back pain, and headaches. Other injuries include herniated discs in the back, torn anterior cruciate ligaments in the knees and shoulder injuries. These injuries can result in acute pain that lingers for weeks or even months. You might also have problems bending or flexing the affected joints, which limits your range of motion.
Treating Pain After a Car Accident
Whether you have minor or severe pain after being in a car accident, it's important to have your condition evaluated. In some cases, auto accident injuries can start out with minor pain that ends up getting worse over time. These injuries can be more serious than they seem right after the car accident. Keep in mind that it's also possible to have torn tissue or other more serious injuries that don't cause considerable pain immediately. Having your injuries checked helps determine if you have any severe injuries that require prompt treatment or if you have injuries that are harder to detect without imaging tests. Having these injuries diagnosed and treated helps lower your risk of having recurring or lingering pain.
Other injuries can cause chronic pain when they're not treated right away, especially if the affected parts of the body do not heal properly. This can lead to pain that occurs as a constant aching feeling or pain that flares up at different times. Over time, this pain and stiffness can become worse and end up restricting the types of activities you do or interfering with your daily tasks.
Chiropractic Care for Auto Accidents
Conventional treatment methods for car accident injuries include medications to ease pain, crutches or other assistive devices if needed for walking and limited activity to reduce the risk of making injuries worse. When these treatment methods do not work, chiropractic care provides another solution. This is a non-invasive form of care that is considered safe for many individuals. It provides effective relief without putting patients at risk of bleeding or other complications that are associated with surgical procedures.
At Health First Injury & Pain Centers, we offer chiropractic services that are designed to relieve pain, promote recovery and help patients get back to their regular activities. Chiropractic treatments that can help many types of auto accident injuries include spinal adjustments, which involve putting the spinal discs back into the right alignment. When a car accident affects one or more spinal discs, back pain, neck pain, and other symptoms can occur. Restoring the proper alignment helps ease these symptoms and lowers the risk of having them return. We also offer physical therapy and other services that can help you make a full recovery and enjoy your normal activities without pain.