Chiropractic Care for Shoulder Pain
Causes of Shoulder Pain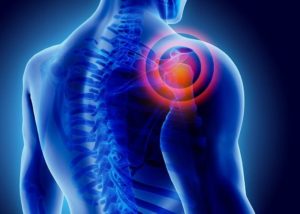 Shoulder pain can occur from injuries that damage the muscles, tendons, nerves or other parts of this joint. It can also occur when you have a medical condition that causes joint inflammation, such as osteoarthritis or rheumatoid arthritis. Some common causes of shoulder pain include a broken arm, dislocated shoulder, rotator cuff injury, tendinitis, broken collarbone, bursitis, and impingement. Other causes include sprains, ruptured tendons, and torn cartilage. The cause of your shoulder pain can also be associated with overusing this joint or developing wear and tear as you get older. You can hurt your shoulder while playing sports, being in an auto accident or falling on the job. Doing repetitive movements on a regular basis, such as swinging your entire arm, can also lead to shoulder pain caused by injuries.
Types of Shoulder Pain and Treatments
There are different types of shoulder pain that you might experience. Generally, these include inflammation of shoulder tendons, tendon tears, arthritis pain, instability in the joint and fractures. Inflammatory shoulder pain is usually associated with bursitis or tendinitis. When these structures become inflamed, they cause mild to severe pain. Tendinitis pain can either be acute if it occurs suddenly or chronic if it persists for a long period of time. Torn tendons occur when these structures are suddenly injured or as a result of a condition in which they wear away. Instability occurs when the shoulder joint becomes dislocated partially or completely, while arthritis pain develops as cartilage on the bones of the shoulder joint erodes. Fractures occur when a bone in the shoulder joint breaks either partially or completely.
The types of treatments available for shoulder pain are based on the cause of this pain and the severity of it. For example, fractures might require surgery to repair the affected bone or bones, while bursitis and other inflammatory conditions typically respond well to limited activity, over-the-counter pain medications, and physical therapy.
Treating Shoulder Pain with Chiropractics
When you have shoulder pain that does not improve with medication and other forms of treatment, keep in mind that chiropractic care offers another option for pain relief. Chiropractics involves manipulating the spine in order to readjust it and bring it into proper alignment again. When you have shoulder pain, your symptoms can be associated with misaligned or damaged spinal discs in the upper part of your spine. Putting these discs into the right alignment can ease tension and pressure on the damaged discs and alleviate shoulder pain. The proper alignment also makes it easy for healing properties, such as nutrients and oxygen, to reach the affected discs.
We provide effective shoulder pain relief in the Dallas-Fort Worth area through the use of chiropractics. Our chiropractic doctors can determine the best treatment plan for your shoulder pain. This might include a combination of chiropractic adjustments for your spine, as well as physical therapy and nutritional counseling. Physical therapy makes your shoulder muscles stronger and improves their range of motion, while nutritional counseling gives you the education you need to eat healthy and maintain the right weight to lower your risk of having shoulder pain again.