Chiropractic Care After a Work Injury
Common Causes of Work Injuries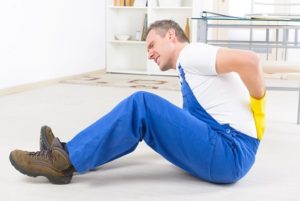 There are many kinds of injuries that can occur on the job no matter what type of environment you work in. From construction sites to office jobs and retail stores, certain hazards can increase your risk of being injured. You can also hurt yourself by simply tripping or falling when you're at work. Some of the most common causes of workplace injuries include doing repetitive motions day after day, slipping, falling to a lower level and overexerting yourself when lifting. These can all result in injuries that range from mild to serious and debilitating. While employers take steps to reduce the risk of injuries to employees, accidents can still happen. If you were injured at work, you might end up with a slight bump on the head, a torn ligament or tendon, broken bones or joint inflammation. You might also end up with whiplash or other injuries if you drive as part of your job and are involved in a car accident.
Treating Work Injury Pain
When it comes to treating work injury pain, the most effective way to do so depends on the kind of injury you have. Treatment options also depend on how severe your injury is. For minor injuries, such as mild sprains, resting the affected area, putting ice or heat on it, taking nonprescription medications and limiting your activities are generally effective at easing pain at least temporarily. However, if you have pain that is severe or pain that is not responding to these types of treatment, there are other options to consider. Surgery might be recommended or required for serious injuries that are not healing properly, especially if these injuries affect your quality of life. If you have a more serious work injury, it's important to have it evaluated to determine how severe it is and how it should be treated. Getting a diagnosis and prompt treatment can help reduce the risk of developing complications or having your work injury get even worse.
Types of Work Injuries Treated with Chiropractics
Many types of work injuries can be treated with chiropractic care. This type of care involves making adjustments to the spinal discs to realign them for proper healing and to relieve pain and other symptoms. We have skilled chiropractors who can help you achieve a pain-free life after you've suffered a workplace injury. Realigning the spine through chiropractics takes pressure off the affected discs, which makes it possible for them to heal more effectively. This eases soreness, stiffness, tingling and other symptoms of common workplace injuries. We also offer physical therapy and nutritional counseling for relief from symptoms of work injuries.
Some of the different types of work injuries that can be treated with chiropractic services include herniated discs, bulging discs, back sprains, neck sprains, whiplash, carpal tunnel syndrome, and bursitis. Chiropractic care can also provide you with relief for other types of work injuries, including tendonitis and torn rotator cuffs in the shoulder. Spinal adjustments can also relieve headaches that are linked to tension in your muscles or sitting or standing with poor posture at work.